The air cargo industry escaped the decimation that COVID-19 wrought on passenger aviation. But keeping the goods moving in a time of pandemic has its own challenges.
by Margo Marchbank
We know global aviation has been one of the industries hit hardest by the COVID-19 pandemic. Discussion of the impact has focused largely, and understandably, on passenger airline operations—how airline operators survive the economic downturn, the operational and safety implications of grounding idle aircraft, maintaining a flight-ready workforce and ways to make air travel safe for apprehensive passengers when normal traffic returns.
However, the 70–90 per cent drop in passenger airline traffic during the pandemic has also affected global cargo operations. Traditionally, passenger aircraft carry a sizeable percentage of the world's air cargo as belly freight (estimates vary from 60 to 90 per cent). During the pandemic, there has been a necessary shift from carrying cargo in the holds of passenger aircraft, to cargo being shipped by 'full freighters' such as the Boeing 747, 757 and 767 and the Airbus 300.
The fact that belly freight is no longer readily available has coincided with pandemic-driven demand to move urgently needed medical supplies and personal protective equipment, as well as parcel deliveries generated by massive growth in internet commerce during lockdowns. For example, Australian consumers spent $7.5 billion online from March to May 2020, an increase of 63 per cent on 2019 retail figures.
Full freight ahead
Australia Post is seeing sustained delivery demand, at Christmas levels and higher, suggesting the behavioural shift to online shopping is here to stay. In its 2020 half-yearly report, Amsterdam's Schiphol Airport said, 'Full freighter flights were up 48.1 per cent, to 10,274 air transport movements from January to June, but the number of belly flights dropped by 51.6 per cent to 105,665 [movements] compared to the first half of 2019. In the first half of 2020, full freighter volume increased by 12.4 per cent to 463,679 tonnes, while belly cargo volumes dropped 45.9 per cent to 192,264 tonnes.'
Consequently, full freighter pilots are working harder than ever. Christiaan van Heijst is a senior first officer flying 747-400s for the small Liège-based freight operator, Challenge Airlines.
Challenge operates four weekly flights from the Belgian cargo hub at Liège Airport to John F Kennedy International Airport (JFK) in New York, a weekly service to Hartsfield-Jackson Atlanta International Airport, as well as operating into Houston, Texas, Tel Aviv's Ben Gurion Airport and periodic medical relief charter flights to the major Chinese cities of Zhengzhou and Wuhan.
For van Heijst, the COVID-19 pandemic has meant seeing 'how empty airports such as Houston and Atlanta are, no delays because of traffic' and 'getting all the routes we want, and … the altitudes we want'.
Due to the reduced passenger airline traffic and 'almost empty airspace', air traffic control is very accommodating to the cargo pilots' requests. For instance, at JFK, taxiing for 30–40 minutes was quite standard before the pandemic, but became much shorter. The downside of the pandemic for van Heijst is the need to adapt to the constantly changing environment. For example, at JFK an outbreak of COVID-19 infection in a terminal office meant pilots had to use a different cargo terminal for one or two days.
Crew layovers are problematic, with constantly changing requirements over the past few months. 'Every time we have to see what the new airport/quarantine/immigration/security procedures are, each case is different,' van Heijst says. 'In New York, we would take a taxi from the airport to the hotel, pick up the keys which had been left for us on the front desk and spend two days in a hotel room prison. When things lifted a little, we stayed in a hotel further out of the city, which gave us the opportunity to get outside.'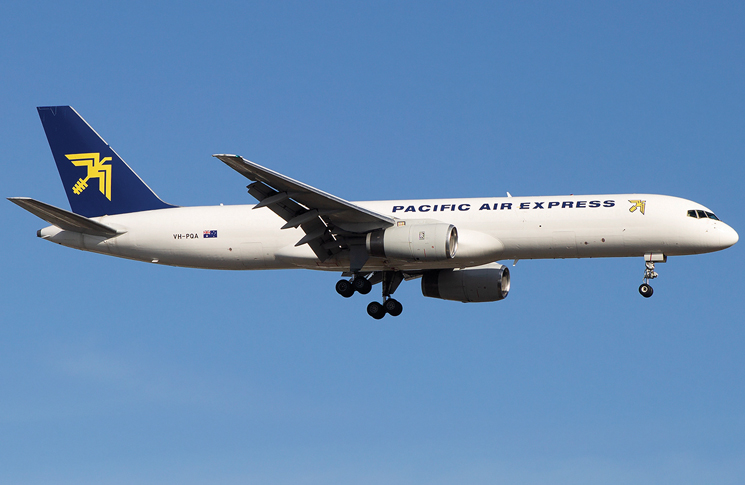 It was the same in Tel Aviv. 'At first we couldn't leave the hotel, then we could go down to the beach, and then it was under lockdown again.' Flying into China is also difficult. 'Foreigners flying into China are regarded as a huge risk, so pilots still have to stay in complete isolation in a hotel room after thorough and unpleasant COVID-19 tests after landing.'
It seems the contemplative aspects of aviation are not so suppressed during the pandemic as they usually are during routine commercial flights. 'Two consecutive nights crossing the Atlantic, gazing at a canopy of an unbelievable starfield above my head … [and] not one single other pilot on the radio between Brussels Control and New York Approach, I felt like a sole witness to an entire universe,' van Heijst says.
The impact of the pandemic on operations has been profound for Sammy Clark, Deputy Flight Operations Manager of Brisbane-based Pacific Air Express.
Pacific has two B757-200F freighters and, just before the COVID-19 outbreak, had gained approvals for cargo operations into China and Hong Kong. However, prepositioning crew offshore became increasingly difficult with fewer passenger flights, stringent quarantine rules and increased crew exposure on multiple passenger flights.
The pandemic also made Hong Kong problematic for a number of reasons: the availability of a backup aircraft (Pacific's second 757 was stranded in Hungary having its C check) and the airport permitting only a limited layover. Pacific's crew rest requirement was 12 hours, but the airport stipulated 10 hours because of the congestion created on the taxiways by the parked Cathay Pacific fleet. Consequently, Pacific is focusing on domestic mail freight operations in Australia.
Clark normally flies the 757 but, as a Kiwi, with minimal flights across the Tasman, he is stranded in New Zealand for the duration, forced to manage the complex and challenging logistics remotely. He shares van Heijst's frustration with the constantly changing procedures and the impact they have on crew wellbeing and efficiency.
His particular frustration is with the variability of state regulations to manage COVID-19. Pacific runs a daily operation delivering mail, flying Perth–Melbourne–Perth, and sometimes a leg to Brisbane.
'The nuances of what's required in aviation have been lost,' he says, citing the example of trying to get an engineer to Perth to work on the 757. 'He's the only guy certified to work on the aircraft and, although we had all the permissions from the state authorities, I was on the phone making sure the police didn't stop him at the airport.'
Flight and duty times are an issue too. Crew days are becoming longer, driven by the necessity to comply with multilayered procedures. 'We're slowly being strangled,' Clark says. 'It's becoming harder to get in [to each state]. 'I don't know how you get all the government authorities to understand what's required in aviation.'
In one instance, crew arriving in Perth were met by police, who followed them to their hotel room, even though the paperwork was in order with state health officials.
'Police were also knocking on doors, which risked disturbing rest times after the crew had been flying all night,' he says.
There is a plus side, Clark says. 'CASA has been really very good in being quick to acknowledge the risks and has been realistic in accommodating our forward risk-mitigation plans to extend our medicals and other checks,' he says. 'They realised we couldn't travel overseas to Miami for scheduled simulator sessions, for example, and have allowed us to use a simulator in Sydney.'
Clark says while their second 757 is a victim of COVID-related maintenance delays, with its Rolls-Royce RB211 engines having to be sent to Spain, CASA has assisted Pacific with its aircraft maintenance program.
The demands for cargo movement, especially by 'full freighters', is unlikely to decrease in the foreseeable future. Companies such as Toll operate an extensive fleet of air freight aircraft throughout Australia and the Asia-Pacific region, including 737s. 'We've seen the tonnage go up on what we carry,' Clark says.
According to Bloomberg Intelligence, passenger aircraft movements—and therefore belly freight—will not return to pre-COVID levels until 2022. The International Air Transport Association says the next challenge for cargo freighters will be distributing single doses of the COVID-19 vaccine to around 7.8 billion people.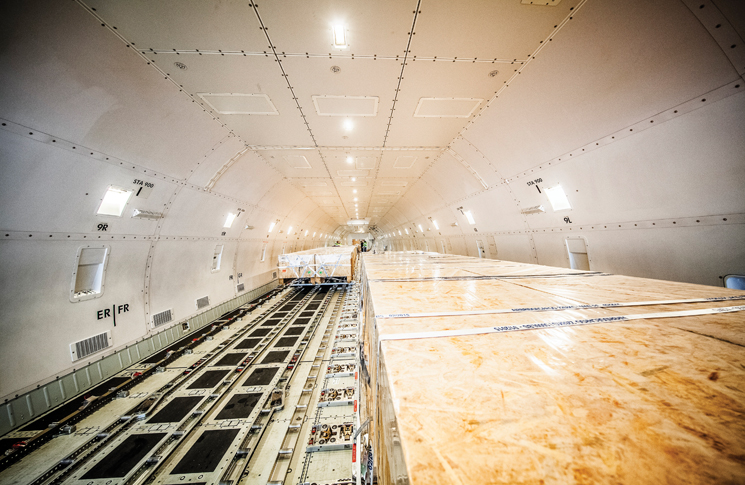 Cargo queen of the skies
'What I find really interesting is that the 747 was dying out—nobody wanted them—then overnight, they've gone from being an obsolete icon of the twentieth century to the workhorse of the twenty-first,' Christiaan van Heijst says. 'From a pilot's perspective, the 747 is the ultimate flying machine. It has great handling characteristics and is a very reliable aircraft.'
747 freighter facts
United Parcel Service (UPS) Airlines—the third largest cargo airline in the world in 2019—is the biggest operator of B747-8Fs, ordering 14 more in 2018 to add to its existing 14.
Boeing plans to cease 747 production in 2022, although the aircraft is likely to be seen in the cargo world for 20 years after production ends.
The 747-4F and -8F are valued for their cargo capacity—around 112,900 kg and 132,630 kg respectively—compared to freighters such as the MD-11, used by UPS and FedEx, at 93,213 kg, and 102,965 kg for the B777-200F flown by Qatar Airways Cargo and FedEx.
The other feature which sets 747 freighters apart is their nose-loading capacity. The cockpit is located on the top deck, so the hinged nose door not only allows loading from both ends at once but provides flexibility for loading oversized freight. While the Russian Antonov An-225 also has a nose-loading door, only one was manufactured, in 1988.
In 2004 Boeing launched its 747-400BCF (Boeing converted freighter) program, to convert 747 passenger aircraft to freighters. However, the 747-400BCF does not have a nose-loading door.