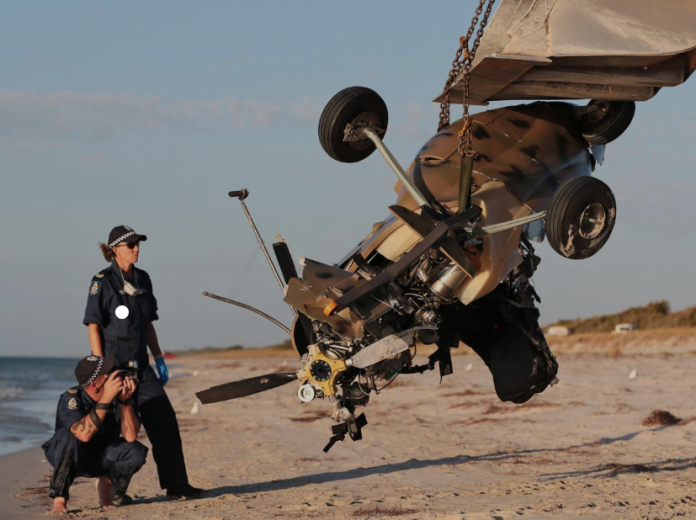 Date 2 October
Aircraft Magni Gyro M24C Orion Plus Location Stockton Beach, NSW
Fatalities 0
Description Gyrocopter crashed under unknown circumstances. Two occupants had minor injuries.
Date 11 October
Aircraft Jabiru SP500 Location Near Gruyure, Vic
Fatalities 0
Description Engine developed severe shudder in flight and stopped. Pilot attempted forced landing in paddock. Lack of prop-wash over elevators affected final round-out and aircraft landed heavily, damaging landing gear.
Date 14 October
Aircraft Aerochute Hammerchute Location Krondorf, SA
Fatalities 0
Description 300mm length of propeller broke off during initial climb. Pilot made immediate emergency landing but aircraft rolled inverted on touchdown.
Date 21 October
Aircraft Cessna 510 Citation Mustang Location Temora, NSW
Fatalities 0
Description On flight from Essendon to Qld, aircraft landed on a closed runway when making a stop at Temora. ATSB investigating.
Date 21 October
Aircraft Saab 340B/Beechcraft B200 King Air Location Near Toowoomba, Qld
Fatalities 0
Description Aircraft were inbound to Brisbane West Wellcamp airport and had contacted each other. King Air crossed in front and below Saab on downwind leg, prompting a TCAS resolution advisory. Saab crew climbed in accord with RA. Both aircraft landed safely soon after.
Date 25 October
Aircraft Boeing 737-800 Location Near Esperance, WA
Fatalities 0
Description Crew of Qantas flight from Perth to Adelaide received fuel imbalance warning. One engine was shut down as precaution and aircraft made precautionary landing at Kalgoorlie-Boulder, WA.
Date 30 October
Aircraft Tecnam P92 Echo Super Location Caboolture, Qld
Fatalities 0
Description Undercarriage collapsed while taxiing out of hangar.
Date 4 November
Aircraft Boeing 737-300 Location Darwin, NT
Fatalities 0
Description Crew identified cargo aircraft was not pressurising. They donned oxygen masks and returned aircraft to Darwin. Preliminary investigation found cargo smoke depressurisation switch had been selected.
Date 6 November
Aircraft Jabiru J160C Location Latrobe Regional Airport, Vic
Fatalities 0
Description Pilot had to divert for skydivers after joining circuit. Pilot had made inbound calls, but was on another frequency.
Date 13 November
Aircraft Socata TB20 Trinidad Location Perth, WA
Fatalities 0
Description Aircraft ditched near City Beach, Perth, after pilot reported engine failure. Both on board escaped without injury.
Date 17 November
Aircraft Jabiru J120C/Unknown Location Jindabyne, NSW
Fatalities 0
Description Another aircraft landed straight towards Jabiru while it was backtracking to leave runway. The second aircraft pulled up abruptly on the runway, made a 180 degree turn, taxied back to the threshold and took off. No radio calls were heard.
Date 30 November
Aircraft Boeing 777 Location Brisbane Airport, Qld
Fatalities 0
Description Qatar Airways flight made lateral runway excursion after approach in heavy wind and rain, destroying four runway edge lights.
Date 3 December
Aircraft Aeroprakt A22LS Foxbat Location Colac, Vic
Fatalities 0
Description Aircraft suffered partial power loss on initial climb. Landing gear damaged in heavy landing when aircraft returned to aerodrome.
Date 4 December
Aircraft Air Tractor At-400 Location Rowena, NSW
Fatalities 1
Description Agricultural aircraft crashed into farm field under unknown circumstances, killing pilot.
Date 10 December
Aircraft de Havilland Canada DHC-8-402Q
Location Perth Airport, WA
Fatalities 0
Description Aircraft made emergency landing after engine problems in flight. No damage or injuries.
Date 19 December
Aircraft Rockwell Commander 114 Location Near Redcliffe Airport, Qld
Fatalities 4
Description Pilot reported engine problems soon after take-off and aircraft was returning to airport when it went into sea.
Date 24 December
Aircraft Jodel D11 Location Ball Bay, Qld
Fatalities 1
Description Pilot attempted emergency landing after engine trouble but crashed short of runway on to beach. Passenger died of injuries.
Sources: ATSB, RA-Aus, Flight Safety Foundation