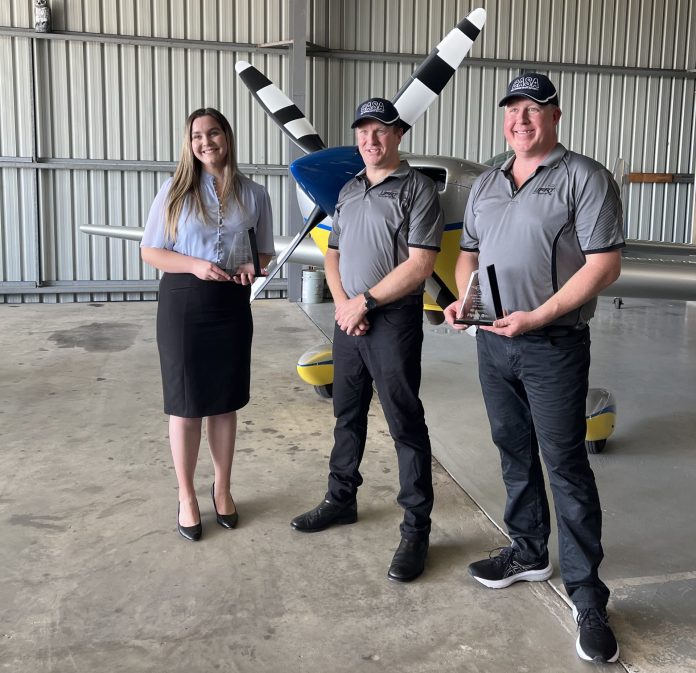 UPRT Australia and Lauren Jones receive their awards
CASA is continuing our support of Australian Flying's CASA Wings Awards through our Safety promotion sponsorship program. The program aims to improve and raise awareness of the importance of aviation safety for the benefit of the wider aviation community.
On Saturday 12 August, the first of the 2022 winners received their awards at a presentation at Archerfield Airport.
UPRT Australia – Flying Training Organisation of the Year
The 2022 Flying Training Organisation of the Year award winner, UPRT Australia, was established on the back of many vigorous discussions between company directors Jeremy Miller and Shane Tobin on how the aviation industry needed specialised training in upset prevention and recovery training (UPRT).
Jeremy says they try to do things a little differently at UPRT Australia. Their mission is to provide a multifaceted course focusing on the prevention of loss of control in flight.
'What we try to do here at UPRT Australia is think outside the square and address the reason why we're still seeing, as an industry, loss of control in flight accidents,' he says. 'To do that we really had to start with a blank sheet of paper, build up our UPRT course and educate ourselves as instructors about where the problems really are.
'We discovered the problem is with the psychology behind "startle and surprise". And so that's been a really big focus and what we've really developed our course around.'
UPRT's course is designed to take pilots outside their comfort zone in a controlled, safe environment. It focuses on a fundamental aspect of flying: human factors. This is because a pilot's training will have little to no effect on their ability to recover from a real aircraft upset situation unless they can first mentally recover enough to be able to fly the aircraft.
Between the 2 directors at UPRT Australia, there are nearly 50 years of aviation experience. This includes general aviation, aero-medical, instruction, warbirds, airlines and air show displays. In addition to the UPRT course, they also offer aerobatics endorsements, Pitts Special training, a spin and UPRT course for new instructors, and more.
Jeremy's passion for flight training is clear, but he says he did not expect the win. 'To have [what we're doing] recognised by Australian Flying and CASA is absolutely fantastic. We're just doing our thing and we weren't expecting a phone call, but we're absolutely rapt,' he says.
'When I got the phone call from [CASA CEO and Director of Aviation Safety] Pip Spence, I was down at our Sydney base working with one of our instructors. I completely did not see that phone call coming – I was very surprised!'
Jeremy says having a great team is essential.
'I'd love to thank the team of people we have around us. We have a fantastic group of flying instructors who work for us at the moment, who are very passionate about what they do. We wouldn't be where we are without them.
'And thank you to Australian Flying and CASA for recognising what we're doing here.'
Lauren Jones – Young Achiever of the Year
Griffith University's Lauren Jones was recognised as the Young Achiever of the Year for 2022.
Lauren's CV is already both extensive and impressive – she's the recipient of the Sir Samuel Griffith Connect Scholarship, Griffith University Award for Academic Excellence, NASA and Houston Association for Space and Science Education Scholarship, school academic medal and academic excellence awards.
She's also a member of both Griffith University Aviation Clubs – Griffith University Aviation Association and Griffith University Soaring Society.
Her passion for heading skyward started young and has continued ever since. 'I have loved everything and anything aviation since I was a little kid,' Lauren says.
'My mum says that the sound of fast jets over our house always calmed me as a baby, and as a young child, I used to beg to sit under final to watch aircraft land.
'The highlight in aviation for me is strapping into an aircraft and going flying. What an amazing profession aviation is, where you look forward to going to work and also being able to spend time with like-minded friends and colleagues.'
Among Lauren's impressive list of achievements is her recent graduation from uni, where she remains deeply involved in the aviation community.
'I recently graduated with a Bachelor of Aviation (Distinction) from Griffith University, where I am currently Chief Student Pilot for the Griffith Aviation MATES program (Mentoring Aviators Through Educational Support),' she says.
'Through the program, I became heavily involved with both the professional and wider aviation community, allowing me to connect and network with a wide variety of aviators with varying experience levels.
'It also has provided me with the opportunity to share my love of aviation and encourage others who might have previously felt that the industry is not within their reach.'
Despite her long list of achievements, winning the Young Achiever of the Year award still came as a shock to Lauren.
'I was in disbelief, to be honest. When I got the call, I was very surprised but also humbled that I received the award, given the calibre of young aviation professionals,' she says.
Lauren credits her strong family support system and mentorship for helping her live out her dreams.
'Although perhaps a little clichéd, I'd like to thank my parents for their constant love and support in encouraging me to follow my dreams,' she says.
'I'd also like to sincerely thank Dr Christine Boag-Hodgson for being my long-time mentor and always being able to provide information and support, and for tirelessly being a sounding board for my most important decisions.'
CASA warmly congratulates UPRT Australia and Lauren Jones on receiving their well-deserved awards. Keep an eye out for more winner stories coming soon.
Nominate today!
Do you know someone who deserves to be recognised for their contribution to aviation? Nominations for the 2023 CASA Wings Awards are now open. Visit the Australian Flying website for more information.