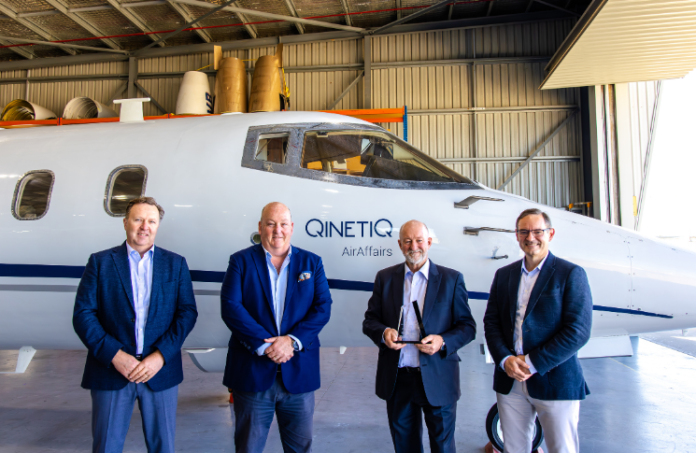 Chris Sievers receives his award
We're continuing our support of Australian Flying's CASA Wings Awards through our Safety promotion sponsorship program. The program aims to improve and raise awareness of the importance of aviation safety for the benefit of the wider aviation community.
Our fourth winner, licensed aircraft maintenance engineer Chris Sievers, received the Col Pay Award for Lifetime of Service to General Aviation. The award recognises people in the industry who have contributed significantly to the general aviation sector over long periods of time.
The award was handed over to its proud recipient on Monday 21 August by CASA's Chris Monahan, Executive Manager, National Operations and Standards, during a presentation at Air Affairs Australia, Nowra.
Chris Sievers is a general aviation stalwart who founded Air Affairs Australia – a flight operations and engineering company – in the early 90s. The company is still flourishing, providing advisory and training services to the Royal Australian Navy at Nowra. Chris's 'never give up' attitude has resulted in the company growing from 5 personnel and one aircraft to 175 personnel operating a fleet of 25 aircraft.
He also has a very successful advanced manufacturing centre which focuses on producing products for all 3 arms of the Australian Defence Force. The associated special missions' work and manufacturing carried out by Air Affairs Australia requires a person with a clear vision, drive and leadership – someone exactly like Chris.
While he has more than 40 years' experience in aviation, he says founding the business has been one of the most rewarding parts of his career.
'The highlight is no doubt building and growing a business with Learjets to where it is today,' Chris says.
'This is further rewarding in that the Learjet still remains the platform of choice around the world today, and having been a part of creating this capability is very fulfilling.'
It's unsurprising that Chris chose a career in aviation, having always loved the industry.
'I have always had a passion for aviation and especially with Learjets – to create a business around this unique and fabulous aircraft made coming to work a pleasure,' he says.
'I was involved in maintaining corporate Learjets back in the early 90s as a junior engineer and was selected to help develop a military capability on the aircraft.
'I was fortunate to have worked with the Learjet factory in Wichita from day one and have stayed involved since then.'
Chris continues to give back to the industry he's so passionate about. During the last 30 years he has employed more than 30 apprentices and taken them through their studies to become fully licensed in their field – critical at a time when high-quality aircraft maintenance engineers are essential for the future of a safe and vibrant aviation industry.
But he says all this success has not come without support.
'I need to recognise my wife Lyn's support over these many years, and 3 key employees, Jan Ujma, Debbie Stralow and Darren Bramley, who have made a huge contribution to help build the business that I now lead.'
While he was happy to win the award, Chris says it did not come without hard work – something that is obvious when you look at his achievements.
'I was very flattered to receive the Col Pay award and, after a lifetime of working in my industry and growing my business, it's an acknowledgement of all that hard work.'
CASA congratulates Chris on winning this well-deserved award. Keep an eye out for more winner stories coming soon!
Nominate today
Do you know someone who deserves to be recognised for their contribution to aviation? Nominations for the 2023 CASA Wings Awards are now open. Visit the Australian Flying website for more information.