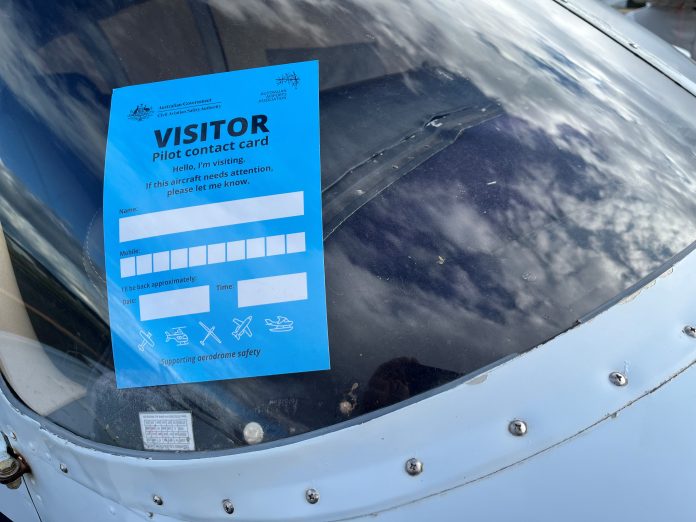 Rolled aircraft, fuel leaks and a bee nest in the undercarriage. These are some of the issues reported by airport staff about unattended aircraft at regional aerodromes.
This week is Airport Safety Week and to support this initiative, CASA has collaborated with the Australian Airports Association (AAA) and an aerodrome reporting officer (ARO) to develop a safety contact card for pilots visiting aerodromes. It's the bee's knees!
The card is simple to use. The pilot fills out their contact details on the card and places it in the windshield of the parked aircraft. If something goes wrong and the pilot needs to be contacted, their details are immediately available.
The need for a safety contact card was suggested by ARO Bob Rowe, based at Mount Gambier Airport on South Australia's south-east coast.
'The idea came to me after an incident where we needed to urgently contact a pilot because their aircraft door became unsecure, blew open, and their fuel cards ended up flying out of the cabin,' he says.
'We knew where the pilot was staying in town, but businesses don't give out the contact details of customers – even when an urgent issue needs to be addressed.'
Bob says not being able to directly contact a pilot when an aircraft has an issue is a weekly occurrence.
'You can try calling the operator of the aircraft and ask who it's assigned to, but this is a very drawn-out process – not helpful if something needs to be addressed quickly,' he says.
'But now the contact card is available, it'll make it much easier for AROs at regional airports to contact pilots if there's a problem, and not have to worry about the run-around. We can just look in the window and give them a call'.
Bob believes the initiative will benefit everyone – AROs and pilots.
'The feedback I've received has been overwhelmingly positive. Pilots I've spoken to are onboard with the card because, at the end of the day, they're the ones affected by a faulty aircraft.'
The safety card will also improve the experience of pilots flying to regional airports, Bob says.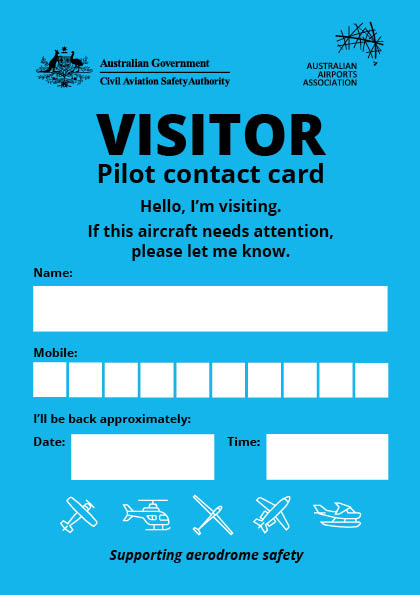 'At Mount Gambier Airport, our mantra is to be a friendly and welcoming airport. The safety card will contribute to
increased efficiency by cutting out often-avoidable incident reporting, which will allow us to maintain quality service delivery to our patrons.'
CASA and AAA are hopeful the safety contact card contributes to the speedy rectification of safety concerns at regional aerodromes for the benefit of pilots, staff, and industry.
Don't delay! To get your copy of the safety contact card, visit the CASA online store.