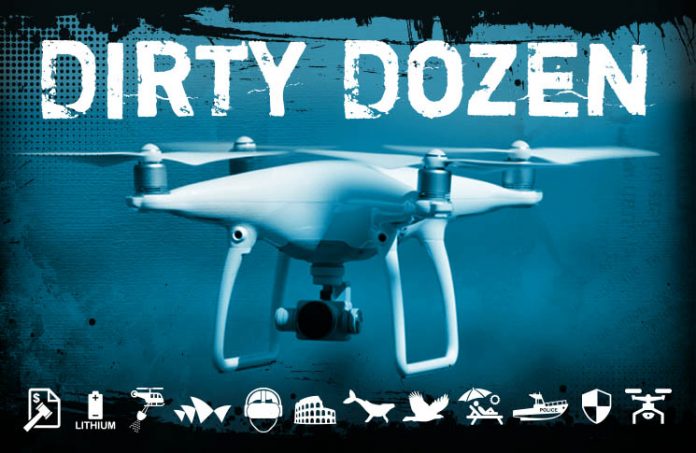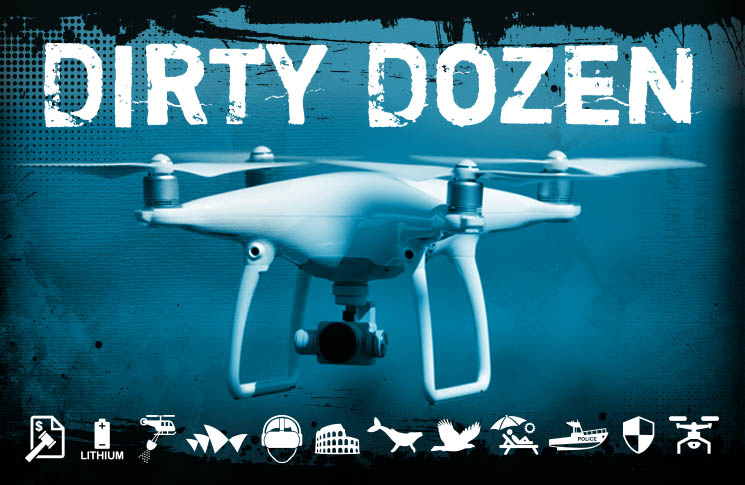 Drones are becoming increasingly popular throughout society—being flown by kids with no aviation knowledge at the local park or by experienced pilots conducting complex commercial operations. With this popularity comes an increasing awareness of how your drone can land you in trouble.
Over the last few years, numerous incidents involving drones have made news headlines, giving drones rather than the people flying them, a bad name.
Whether it's harassing whales in Western Australia, accidentally photographing a bikini-clad grandmother in Melbourne, nearly grounding firefighting aircraft over Cessnock, or crashing into traffic on the Sydney Harbour Bridge, it's apparent that drone technology, just like any other modern-day consumer item, is only as safe and tolerable as the person using it.
Safety rules for drones were first introduced in Australia in 2002, but it took another decade before the industry really started to take off. Since 2012, the number of drones has risen sharply, with Australia on track to have almost 900 certified commercial operators by the end of this year; a sizeable increase from 14 in 2012.
It's anyone's guess as to the number of recreational drones in Australia, because a large proportion of them are purchased online and overseas. But one thing is for sure, with the world drone market estimated to reach $127 billion by 2020 and global manufacturers like DJI, Parrot, 3DR and GoPro vying for market share, drones are only going to become more accessible and widely used in society.
With that in mind, we're highlighting 12 things drone owners—both new and old—need to think about before taking to the skies. Considering these aspects will not only keep you and others safe, but should also prevent you being labelled 'another clown with a drone' in news headlines.
1. Not following the safety rules
'A person must not operate an unmanned aircraft in a way that creates a hazard to another aircraft, another person, or property.' Civil Aviation Safety Regulation 1998 – Reg 101.055
As stated in Part 101 of the Civil Aviation Safety Regulations, the above regulation underpins all other drone safety laws. These common-sense rules are designed to protect other people in the air and on the ground.
Not following these rules could see you face a hefty $9000 fine or even possible jail time depending on the severity of the offence.
In 2015, the Civil Aviation Safety Authority (CASA) issued 15 infringement notices for breaches of Part 101, with nine infringement notices issued so far in 2016.
Make sure you know the rules and follow them. Read about the recreational rules and find more safety information on CASA's flying drones in Australia web page.
You can also find a CASA-verified drone safety app to make sure where you're flying is safe.
2. Sparking a battery fire
Perhaps the most underrated safety aspect of owning a drone is the batteries that power it. Ask any experienced user of lithium batteries, particularly the polymer variety, and they'll probably have a story about one catching fire.
Whether they're dropped, smashed or overheated lithium batteries can become unstable if damaged. So, if your battery shows any signs of leaking, discolouring, bulging or deforming—replace it.
You also need to take stringent precautions when travelling with your drone, ensuring you meet dangerous goods safety regulations and pack all spare batteries in your carry-on luggage. Don't place any in your checked luggage.
A drone operator ignored this in 2014. His bag carrying undeclared batteries ignited a fire in the cargo hold of an aircraft before passengers boarded the flight from Melbourne to Fiji. While no one was injured, it's a reminder about the dangers lithium batteries pose if they are damaged or incorrectly packed.
3. Flying near emergencies
While the vast majority of operators do fly safely and consider the risks, the temptation of capturing exclusive footage during an emergency is proving too much for some.
Earlier this year, the New South Wales Rural Fire Service nearly grounded water-bombing aircraft when a drone was spotted flying over a fire near Cessnock. Fire authorities in California weren't so lucky when they were forced to ground two fixed-wing aircraft fighting a fire in the San Bernardino Mountains after a 'hobby drone' was seen flying nearby.
'If you fly your drone anywhere near a fire, you're not only a fool, but a serious threat and the penalties are severe,' says CASA. 'So fly responsibly and keep your drone away from the emergency services. Because if you fly, they can't.'
Drone operators should also be mindful of low-flying search and rescue and surf lifesaving helicopters, which routinely fly at lower levels than other manned aircraft.
Remember, if you see another aircraft nearby, you should land your drone immediately.
4. Flying over land without permission
There are certain places where you shouldn't fly your drone without first gaining the permission from the relevant authority.
These places include private property, national parks, secure or sensitive areas such as prisons, military bases, schools, council land and notable landmarks, where flying your drone could even gain you the unwanted attention of local law enforcement.
In Hawaii, a drone operator was even tasered by a park ranger after resisting arrest following an illegal flight over a volcano.
Closer to home, one area proving popular with amateur drone enthusiasts is Sydney Harbour, with many flying over the busy waterways despite the harbour being restricted airspace.
While you probably won't get tasered, you could face a sizeable fine up to $9000. So, with that in mind, it's always wise to research the area you're flying in and gain the land or airspace owner's permission before take-off.
5. Flying first-person view (FPV)
Perhaps the most popular part of flying a drone is first-person view (FPV), with the newly launched Drone Racing League being touted as the next billion-dollar spectator sport.
The safety concern with FPV is that the pilot is restricted to seeing only what the camera can see; affecting their situational awareness and their ability to monitor what's going on around them.
It's for this reason that FPV is not generally allowed. You must keep your drone within direct and unaided visual line-of-sight.
For those wanting to don the goggles and fly FPV, you must do so as a member of a certified organisation. These organisations have CASA-approved operating provisions, mitigating the risk FPV poses to other people in the air and on the ground.
Those flying FPV also need to keep in mind what frequency they're operating on, with the Australian Communications and Media Authority regulating the operation of radio communications equipment.
6. Flying outside of Australia
As well as making sure you pack your spare batteries safely (see No. 2), the other important consideration when taking your drone on holiday are the local rules of the country you're visiting.
While some believe Australian laws are too restrictive, compared with other countries, the rules down-under are rather lenient.
Thailand, for example, has banned all drones with camera equipment; Egypt prohibits unmanned flight without permission from its local aviation safety authority; and Sweden recently banned filming from a drone without a surveillance permit. The Federal Aviation Administration in the United States requires all drones weighing more than 0.55 pounds (0.25 kg) to be registered and has declared Washington DC a 'No Drone Zone'.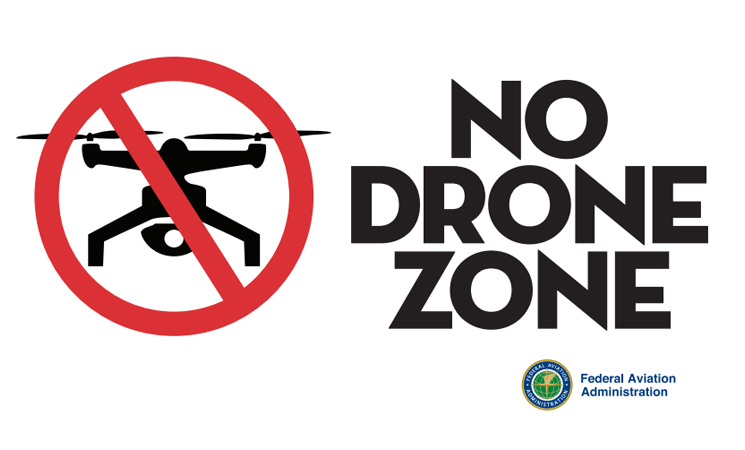 Italy is another popular holiday destination with stricter drone laws than Australia, including a ban on flights higher than 70 metres and further than 150 metres from the operator. Italy also has far heftier fines for flying over populous areas, as one French tourist discovered in April after flying his DJI Phantom 3 over the Colosseum.
Not only was he arrested and his drone confiscated, but he also faced a $AUD170,000 fine. While it's unknown whether the fine was enforced, it's perhaps enough motivation for would-be travellers to research the local rules before flying abroad.
7. Flying near whales, dolphins and other marine animals
The urge to fly first and think later is a serious problem with new drone owners, particularly when it comes to capturing footage of whales or dolphins.
'Operators of drones must comply with the minimum approach distances for all aircraft specified in the National Parks and Wildlife Regulation 2009,' says the NSW National Parks and Wildlife Service. 'This means that a drone must not fly lower than 300 metres above a marine mammal, within a horizontal radius of 300 metres, or within 80 metres if it is a seal pup or sea lion pup.'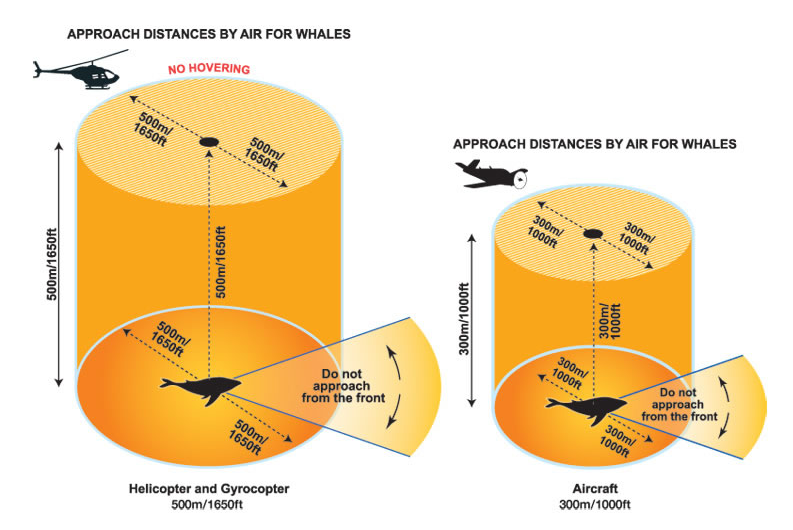 With a maximum fine of $110,000 for breaching these approach distances, flying first and thinking later could prove costly.
Those who need to get closer to whales and dolphins in Commonwealth waters to carry out research can apply for a permit.
8. Birds of prey
Other members of the animal kingdom that don't mix well with drones are birds of prey. With over 20 raptor species in Australia—including hawks, falcons, eagles, kestrels, kites and ospreys—that could see your drone as an incoming threat, it's probably a good idea to monitor bird activity when flying.
As the video below shows, wedge-tail eagles don't take too kindly to an encroaching quadcopter.
So, for the sake of local birdlife and the wellbeing of your beloved drone, keep an eagle-eye, and land if you see any flying talons nearby.
9. Breaching privacy
Despite being noisy, easily detectable, having a limited battery life and carrying a wide-angle lens, one of the biggest public fears around drone technology is the invasion of privacy.
This fear was highlighted in 2014 when a Mount Martha grandmother was photographed sunbathing in her backyard by a drone-using real estate agent to sell her neighbour's house. To make matters worse, the woman only realised the extent of the intrusion weeks later, when she saw her skimpily clad self on a promotional billboard.
Real estate board being pulled down after it showed a Mt Martha woman sunbaking topless @9NewsMelb pic.twitter.com/uYfOekGLA3

— Jayde Vincent (@JaydeVincent) November 16, 2014
The Privacy Act 1988 requires that government agencies and private sector organisations comply with privacy obligations. While the Privacy Act does not necessarily regulate individual operators, some state and territory anti-stalking laws may apply.
With this in mind, you should always respect personal privacy and not record or photograph anyone without his or her consent.
If you are concerned about drones and their implications on privacy, you can contact the Office of the Australian Information Commissioner for more information.
10. Trying to save your drone
After spending a few hundred to a few thousand dollars on a new aircraft, drone owners will go to great lengths protecting their investment, often disregarding their safety to ensure their drone isn't damaged.
One South Yarra man even had to be rescued by water police after leaping off St Kilda Pier in a failed attempt to save his quadcopter from landing in Port Phillip Bay.
Not only did he flounder his recovery effort, but he also couldn't get back out of the water and was forced to cling to a makeshift rope while his friends went for help.
YouTube also has humorous examples of owners desperately trying to reach their drones before it takes a plunge. This uncontrolled state of auto-descend is ironically a built-in safety feature that activates when the aircraft's battery drops below a certain level.
As entertaining as these videos are, one slip could quickly turn a funny situation into a life-threating one. So, proper flight planning and making sure you have enough battery to return home should ensure you don't find yourself in a similar soggy situation.
Another good way to avert the need to scamper after your out-of-control drone is to get insurance…
11. Not being insured
'If you have an accident using your RPA, particularly if third party property is involved or a person is injured, it is likely to result in serious liability implications due to the Damage by Aircraft Act.' – QBE Insurance
'We are only able to offer coverage to operators approved by the Civil Aviation Safety Authority for commercial operations.' – Allianz Insurance
While recent amendments to Part 101 have reduced the amount of red tape for newcomers conducting low-risk commercial operations, the fact remains unless you have an RPA operating certificate (ReOC) from CASA, you'll unlikely get insurance to conduct commercial operations.
This leaves you solely liable for any incident or accident arising from flying your drone, which could prove costly if you damage property or injure another person. Potential clients and employers are also less likely to hire you if you're uninsured.
It's for this reason that many commercial operators are continuing to get their ReOC, with insurers wanting certainty that the person they're underwriting has some level of skill, knowledge and risk mitigation in place.
Recreational operators can find more insurance information via the MAAA's website.
12. Calling them 'drones'
A great way to get into trouble with the remotely piloted aircraft (RPA) industry is to refer to their much-prized aircraft as 'drones'. This of course, is a colloquial term, whose origin is debated: perhaps derived from the low droning noise associated with the aircraft, or because of association with one of the very early drones, called the Queen Bee. Despite the term 'remotely piloted aircraft' being technically more correct, emphasising the fact that there's still a human being in control, for the general public, it's drone, not remotely piloted aircraft. One of the most common questions CASA inspectors are asked during trade shows and exhibitions is, 'What's an RPA?'
The correct term—remotely piloted aircraft (RPA)— is a relatively new phrase, introduced by the International Civil Aviation Organization, designed to replace 'unmanned aerial vehicle (UAV)', reinforcing that a human is in the loop.
Unmanned aerial system (UAS) and remotely piloted aircraft system (RPAS) are other industry phrases for larger operations where the aircraft and pilots are supported by complex systems, allowing for extended and semi-autonomous flights well beyond visual line-of-sight.
There is also the 'model aircraft' community, who have been flying recreationally at organised clubs around the country for decades. While these clubs are traditionally for the model variety of remote control aircraft, they provide a good opportunity for newcomers to learn how to fly and get involved with their local flying community.
In summary—use your common sense
So there you have it; 12 ways your drone can land you in trouble. While we have no doubt there are many other ways to get into strife, having a common-sense approach and always erring on the side of caution should keep you in the clear.
Have fun. Know the rules. Fly Safe. And remember, your drone is your responsibility.
What do you think? Have we left something out that first-time drone owners need to know? Comment below and share your knowledge with other readers.