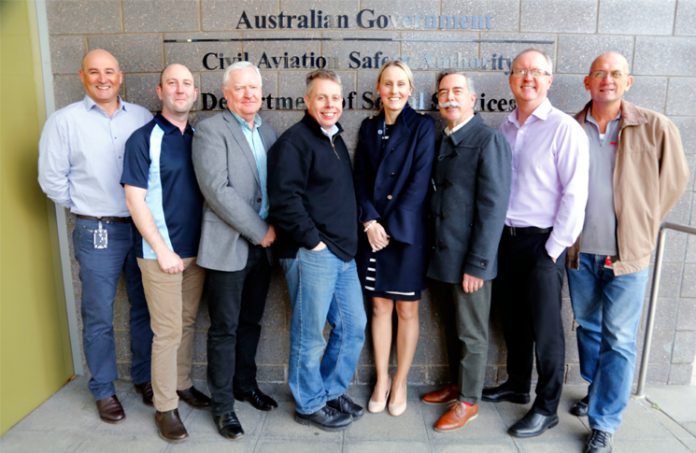 Avalon 2019 starts tomorrow #avgeeks and we're bringing you a range of experts to help answer all your aviation-related questions.
Our aviation safety advisors (ASAs) will be working the stand on both trade and public days. The team works in close contact with those in the aviation industry to provide safety advice and deliver safety education and training.
Each safety advisor travels through their geographic region, meeting with people either one on one or through organised events. They focus on smaller organisations but may also assist larger air transport operators through their various field offices.
Industry Relations manager Matt Bouttell leads the ASA team and said this week will be a great opportunity to engage with aviation experts and the general public alike.
'Over the coming week we look forward to sharing all the fantastic safety education resources CASA has developed over the years, and those that are being launched at the airshow.'
'This is also such a great opportunity to promote the enviable levels of safety that our industry has here in Australia.
'We're all really passionate about aviation safety and I expect this to be conveyed to thousands of people at our CASA stand and at the Drone Zone stand.'
Matt started his aviation career in 1991 as an aircraft maintenance engineer in Sydney working on B747 and B767 aircraft. Matt has had a varied career in aviation thus far including engineering, flight operations, fleet and network planning, international relations and stakeholder relations.
In 2017, Matt arrived at CASA with a strong reputation for working collaboratively with industry. This is demonstrated daily in his role as the Secretariat for both the Aviation Safety Advisory Panel (ASAP) and Regional Airspace Procedures Advisory Committee (RAPAC) and his leadership of CASA's Aviation Safety Advisors. Matt's other responsibilities include oversight of CASA's event and sponsorship program along with industry consultation.
Matt is a keen private and RAAUS pilot and maintains a large network of colleagues and friends from our industry.
Teraya Miller (Sydney Region)
Teraya began flying at 15 years old and aviation has been a passion ever since. While completing an aviation science degree, she attained a commercial pilot licence and then instructor rating.
Before joining CASA in her current role, Teraya owned and operated a flight training organisation for 15 years. She was involved in all areas of the company—from a managerial role overseeing the business to a hands-on Grade 1 instructor and CFI.
Tim Penney (Southern Region)
Tim has been involved in the aviation industry in both a professional and private capacity for 32 years. After learning to fly, he completed an instructor rating at Moorabbin airport in Victoria and worked there as a flying and theory instructor.
Prior to joining CASA, Tim worked for five years as the air safety representative for Embraer Aircraft in Australia, the South Pacific, SE Asia and India. He had safety oversight and accident investigation responsibilities on behalf of Embraer for all turboprop and jet customers in this region. During that time, he completed air accident investigation training at the University of Southern California.
Tim holds, or has held at various times throughout his career, a commercial pilot licence for both fixed and rotary wing, a multi-engine command instrument rating and instructor rating.
Terry Horsam (Western Region)
Terry has over 30 years' experience as a pilot and his commercial flying career includes scenic flying in New Zealand, multi-engine IFR flight instruction and charter operations throughout Australia.
He currently holds an ATPL and instrument rating and has over 20 years' experience as a regional airline pilot.
Terry has been involved in a number of safety initiatives including the introduction of a safety management system and operational safety audits.
Additionally, he's been responsible for establishing and delivering non-technical skills training programs for flight crew and safety critical staff including threat and error management and crew resource management.
Craig Peterson (Western Region)
Craig's interest in aviation began as a child, collecting every aircraft magazine or picture he could get hold of. At the first opportunity, he got on board. Craig joined the Royal Australian Air Force (RAAF) at 19 years old and trained as a pilot. He flew various aircraft types and operations including helicopters, maritime patrol aircraft and the PC9 trainer. Craig holds an aeroplane air transport pilot licence (ATPL) and instructor rating as well as a helicopter CPL.
After 13 years of service, Craig left the RAAF to work as a civilian flying instructor contracted to train military students in the Middle East. Returning to Australia five years later, Craig co-owned and operated a flying college training both fixed and rotary wing students to commercial pilot licence (CPL) level. He held the roles of theory lecturer, flying instructor, safety manager and head of training.
Michael White (Southern Region)
Michael trained and qualified for an Australian commercial pilot licence at Archerfield Aerodrome Brisbane in 1981. He flew Cessna floatplanes and amphibians from Hollywell Harbour Gold Coast and a Beechcraft on aerial mapping and survey from Archerfield Aerodrome. After a number of years flying in general aviation, Michael started air traffic control training in the Royal Australian Air Force (RAAF). He served at the Amberley Air Force Base Queensland and Darwin International Airport, providing aerodrome and approach RADAR control services, training and supervisory duties. Michael qualified as an ATC instructor and completed a posting at the School of Air Traffic Control in Sale, Victoria, where he was responsible for examinations, theory and instructor training.
Michael's career highlights include establishing national competency standards for ATC training in Australia and developing an ICAO standard training package for international use in incident investigation.
Peter Ball (Northern Region)
Peter grew up in an aviation family and was exposed to many facets of the industry from a young age, flying with the family on numerous cross-country trips during the late 60s to mid-70s in a variety of GA types.
On leaving school, he entered an aircraft maintenance apprenticeship in Darwin, initially training in avionics then switching to mechanical because of training limitations.
He was granted an aircraft maintenance engineers licence in 1987 and was fortunate to gain multiple endorsements in airframe and engine categories, starting with light GA types, progressing to light and heavy turboprops through to the BAe-146 and B717. These aircraft represent Peter's involvement in GA, special mission and RPT aviation areas. Most of his engineering career involved supervisory roles coordinating with flight crews and flight operations staff.
Bradley Johnson (Southern Region)
Brad has been in the aviation industry since 1991, predominantly in engineering and maintenance.
Brad started his career as an apprentice with Aerospace Technologies of Australia (ASTA), at Avalon near Geelong in Victoria. After completing his apprenticeship, Brad progressed his career, both as a contractor, and in various permanent roles throughout Australia and internationally, including Asia, the Middle East and New Zealand.
Brad has been fortunate enough to work on a wide variety of aircraft, both fixed and rotary wing, including major projects such as airline fleet refurbishments, freighter conversions, heavy maintenance, line maintenance and vintage aircraft restoration, ultimately specialising in large transport aircraft. Trade qualified in both structures and mechanical, Brad holds a CASA aircraft maintenance engineers' B1 licence with ratings on Boeing 747, 737, Airbus A319, 320, 321 and Embraer E170, E190.
Avalon 2019 is one of the largest, most comprehensive aviation events in the southern hemisphere and will bring together aviation and aerospace professionals, key defence personnel, aviation enthusiasts and members of the general public.