The evocative start-up howl of the Rolls-Royce M250 gas turbine will be part of the future of aviation, even if the aircraft it powers are utterly unlike anything flying now. Rolls-Royce is testing an electric hybrid drive system for urban air vehicles and other aircraft using distributed electric propulsion.
Rolls-Royce says the system will be used across a range of aircraft, including EVTOLs (hybrid electric vertical take-off and landing vehicles), general aviation aircraft and hybrid helicopters. It follows up on the Rolls-Royce EVTOL concept unveiled at the 2018 Farnborough airshow.
The company said, 'We successfully tested the hybrid version of the M250 gas turbine in a ground demonstration setting in three operating modes: series hybrid, parallel hybrid and turbo-electric. The M250 hybrid is planned to be used as a propulsion plant with power ranging from 500 kW to 1 MW and has the potential to transform aviation power.'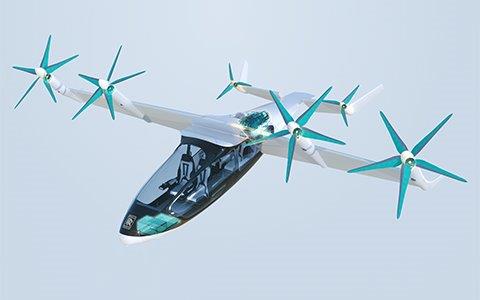 The hybrid systems integrate a gas turbine engine with a battery, electric generators, power converters and an advanced power management and control system. Rolls-Royce tested three system configurations:
Series hybrid: Where the engine operates as a turbo-generator that charges an on-board battery system and does not contribute to thrust directly. All power required for thrust and other onboard systems is supplied by the battery.
Parallel hybrid: Where the platform thrust is supplied by a combination of the engine (mechanical thrust) and the electrical system (electrical thrust), while the other power needs of the aircraft are met by the battery.
Turbo-electric mode: In this configuration, the battery system is redundant. The engine operates as a pure turbo-generator supplying electric power for thrust and any other power needs on the aircraft.
Rolls-Royce is aiming for experimental flights of the system in 2021. The company is also developing a larger 2.5 MW system, using the AE 2100 turbine, that is being tested with Airbus on the E-Fan X demonstrator platform.
The Rolls-Royce M250 was originally produced by Allison and powers more than 170 aircraft types, including the Bell 206 and Sikorsky S76.
Flight Safety Australia looked at electric aircraft in 2017 in Watts happening: behind the buzz about electric aircraft.