Temptations and biases to attend an event can be powerful but safety of flight must always come first because winds, cloud and rain don't care about your social life
I'm a social thing. In fact, I'm pretty partial to any plan that involves aeroplanes, plenty of people and the high chance of a party. I'm aware this is a safety magazine, so will attempt to keep to the brief here, but I want to talk about planning – social planning, and the side-order of risk that often accompanies the main course. 
Let's talk about get-there-itis. Remember? That's the one that tries to kill pilots.
My husband Rossy and I had planned an outback flying holiday in early November 2021, not something I'd normally do so late in the year, but COVID-19 held the reins last year, right? Actually, I blame Tumut Aero Club. They organised a fly-in on the first Saturday in November and, because the mob down there are so damn friendly, hospitable, accommodating and great fun, we all signed up. 
Then we thought – OK, while we're down there, let's duck over to North Bundy Station for a night. If you haven't got North Bundy on your radar yet, then get Googling. It's a great new fly-in station stay, about halfway between Hay and Deniliquin, in western NSW.
Then, with our friends in a Mooney, we tacked on 2 nights each at an all-time favourite, Bindara Station on the Darling, south of Menindee, Pincally Station, between Broken Hill and Tibooburra, then back across to Mudgee for the weekend. Great – all booked, excited, couldn't wait. 
First cracks
Enter, the weather gods. Our neat jigsaw started to unravel several days out from launch day. Armed with PIFRs, getting into Tumut looked manageable, albeit via that memorable RNAV in fairly certain IMC, but the forecast weather the next day looked even worse. 
Thoughts that drifted into my head: Tumut is surrounded by mountains; cloud nearly to the ground; dirt strip at North Bundy – unserviceable after rain. Would they get the rain, or would it miss them? Several phone calls and tonnes of research later, we very reluctantly cancelled Tumut and Bundy. I felt dreadful. 
Between the BOM site, OzRunways Smart Brief, NAIPS, Windy and even Weatherzone, a picture for the whole of that week was starting to form. Lots of rain on the forecast, but would it really eventuate in the dry old outback?
In the following days, after many more phone calls with all the farmers, trying to figure ways we could make it work, we decided we couldn't risk the weather and getting stuck on boggy strips. With 40 mm-downpours expected, we cancelled Pincally and were then devastated to have to cancel Bindara. 
This was really hard to do, and is the basis of my message today. When you really want to get somewhere and, even worse, feel committed to do so, that urge can sway you towards an often-misplaced optimism. 
In all this deliberation, indecision, wringing of hands and wishful thinking, there comes a point where you just have to call it.
We'd also looked ahead on the forecast and saw that the day we were due to fly east back to Mudgee was offering up IMC and a shocker of a headwind. That return flight, including a refuelling stop at Cobar, would have been over 5 hours, ending with an almost certain instrument approach into Mudgee, drained after a long day in the cockpit. I don't know about you, but I'm seeing personal minimums being eroded here – Swiss cheese stuff.
There are other factors too, like bush etiquette. In all this deliberation, indecision, wringing of hands and wishful thinking, there comes a point where you just have to call it. And, for the sake of your hosts who are catering for you, don't wait until the night before when forecasts are finally becoming believable. Give them as much notice as you possibly can. They shop early and it's not just a dash around the corner to the supermarket. 
I was determined to fly somewhere on that first Saturday, so we flew out to Orange, avoiding much of the weather to the south. Orange was expecting rain over the next few days (and I had no access to any hangar space) so, mainly to keep the marriage intact, I headed for the highest, firmest piece of grass in their parking area. A fully fuelled C182 is no fun to coax out of sodden ground – just ask Rossy.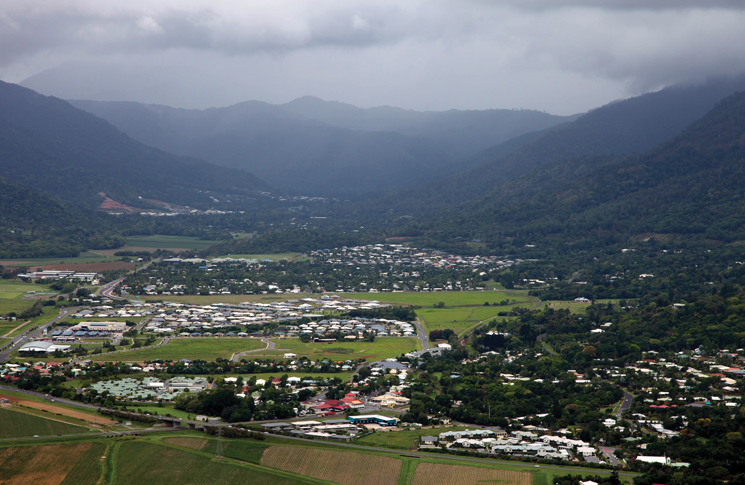 Social pressures
But here's the thing. In all these cases – Tumut, North Bundy, Bindara and Pincally – we had friends to meet, catch-ups and great dinners planned with our hosts, accommodation all booked. Without a solid guarantee of rain, it was really hard to make the decision to cancel. Social pressure to arrive at your destination messes with your head. Pilots will push on into bad weather when, any other time, they'd clearly see the risks. 
Social pressure to arrive at your destination messes with your head.
Get-there-itis is common – it's understandable – and it's deadly. We were seriously disappointed not to get out west, but hey, we survived. I did a fraction of the flying I'd planned to do, but that's mother nature. By the time we grabbed a tiny window of safe weather and flew from Orange to Mudgee, the rain and wind predicted over the next few days was no longer in doubt. In the end we couldn't get back over the mountains to Camden for 5 days!
Thick cloud, 5000-feet freezing levels and mountain waves all combined to say: 'Find a B&B, settle in, go wine tasting and relax.' Problem was, Rossy had to be back in Sydney for work meetings in the meantime. Solution: call it early. As soon as we decided we weren't flying anywhere, we all relaxed. Rossy jumped into action and organised his next few days to work remotely – no worries. And the best bit? No pressure on me to get him home. Sometimes we pilots worry too much about our passengers. Decide early, and Plan B can often be even better. 
On one of our WardAir training trips, we got stuck overnight in country Victoria, and the 9 pilots we had with us are still talking about the totally unscheduled cooking and singing festival we had that night in an empty winery. Way to go. Mother Nature, you're the Boss.