GENERAL ELECTRIC CF6 80C2 B5F–ATA 7250 TURBINE ENGINE TURBINE SECTION–LP Turbine–Hi Vibes. DR 611751192
During climb from FL280-FL340, #3 eng vibes LPT pop-up at 5.0 units. During later cruise, LPT vibes ranged from 2.2–2.8 units. After landing, during inlet outlet inspection, many metal pieces recovered from #3 eng exhaust. Engine replacement decided.
IAE V2500 A1–ATA 7230 TURBINE ENGINE COMPRESSOR SECTION–TURBINE ENGINE–HPC distress. DR 611751240
Alert received from PW–ENG 2 HPC distress/performance loss. BSI of HPC carried out. Damage to HPC stage 5 blades found outside AMM limits including tip curl blade tear and complete blade separation. Engine change carried out.
ROLLS ROYCE TAY620 62015–ATA 7260 TURBINE ENGINE ACCESSORY DRIVE–GEARBOX–CONTAM-METAL. DR 611851246
Following #1 engine start, crew reported that there was no N1 or N2 rotation. Engine starter motor was replaced for troubleshooting. However, following its removal, when looking through the hole for the starter motor output shaft into the high-speed gearbox, metal debris was noted inside. Subsequently, gearbox magnetic chip detector, with significant quantity of metal debris was removed. Engine change has been decided and investigations are continuing.
GARRETT TPE331 12–ATA 7313 FUEL INJECTOR NOZZLE–NOZZLE–Fuel leak. DR 611851281
During flight, right engine fire light illuminated on the warning panel. Relevant checklist completed however, pilot monitoring was unable to shut engine and feather control as it was jammed. The fire warning went out on late downwind and the aircraft was landed and parked. After shutdown, crew notice that there were smoke stains on the cowls and on opening them there was evidence of fire at the top rear of the engine. AMO inspected the engine and it was found that a fuel line at one of the fuel nozzles at the top of the engine was leaking. Secondary damage to wiring and some engine components also witnessed.
PRATT AND WHITNEY PW150 A–ATA 7230 TURBINE ENGINE COMPRESSOR SECTION–Intercompressor case casting–Oil leak. DR 611851301
After applying power for take-off, a blue haze was observed emanating from the flight deck air vents. A strong smell was also present. Take-off was rejected. The haze had almost completely dissipated after power was reduced during the RTO. Cabin crew also reported a haze and smell in the cabin. Engine borescope inspection carried out. LH engine showed evidence of significant internal oil leak. Evidence of oil leaking from perforation of inter compressor case casting. Engine change carried out.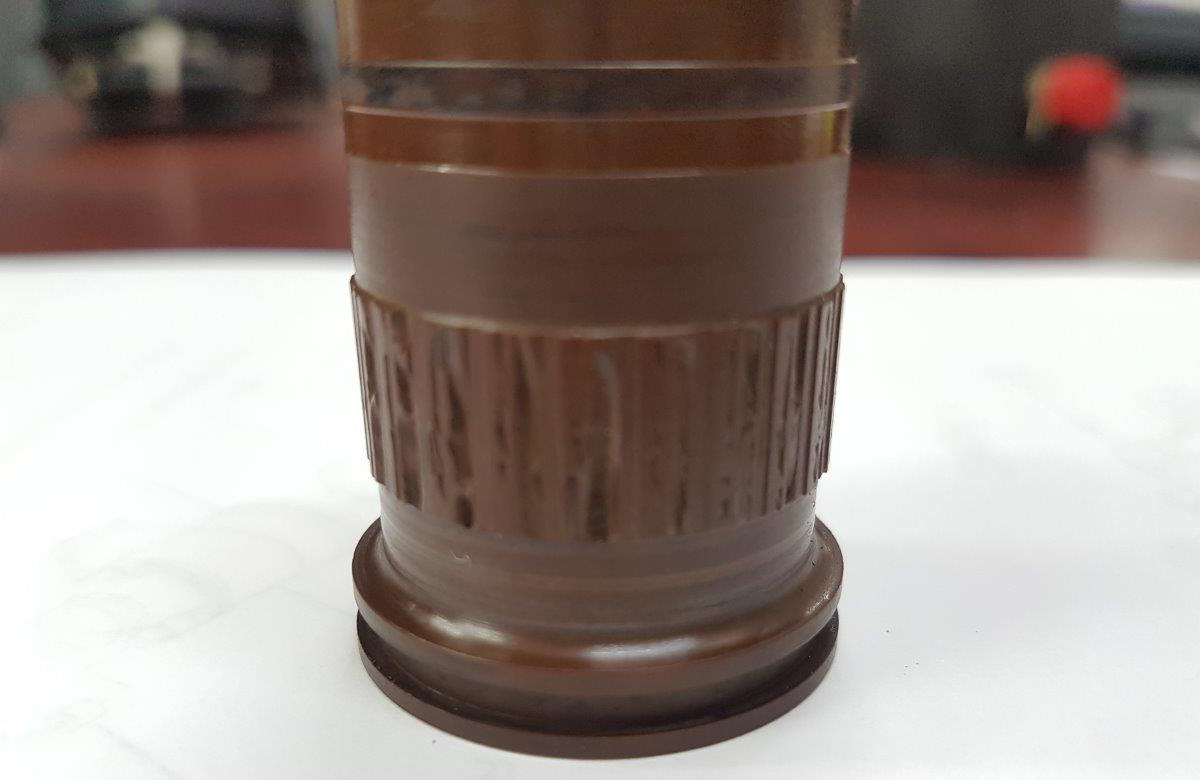 HONEYWELL TFE731 20–ATA 7260 TURBINE ENGINE ACCESSORY DRIVE–ADAPTER–STRIPPED. DR 611851309 (photo above)
During final stages of cruise, crew noted RH generator had tripped. Checklist procedures followed and landing completed without incident. Following shutdown and subsequent generator reset, engine start was attempted with no success. Audible starter generator spin up was noted however no engine engagement could be seen or heard. Start was automatically aborted by aircraft protective systems. Defect was traced to stripped exterior face of no.2 starter/generator splined adaptor. Removed and replaced no.2 starter/generator splined adaptor and returned aircraft to service.
CFM CFM56 3 C–ATA 7530 COMPRESSOR BLEED CONTROL–TURBINE ENGINE–VSV pull check test failed. DR 611851332
During take-off, engine SN XX would not spool up past 40% of throttle control. After comprehensive investigation in conjunction with GE, they recommended a test procedure IAW AD2017-14-08. This AD had been scheduled for incorporation across the fleet. Compliance with the AD initiated a pull force check of the stage 1, 2 and 3 VSV compressor vane system. The engine failed this test, and this was found to be the cause of the engine throttle control failure. The remedial action was an immediate engine change and the aircraft returned to service.
PRATT AND WHITNEY JT15D 5D–ATA 7230 TURBINE ENGINE COMPRESSOR SECTION–COMPRESSOR BLADE–FAILED. DR 611851384
While climbing thru FL 320, a series of loud bangs were heard from the aft of the aircraft. The crew immediately checked engine & flt instruments as well as cabin pressure readings, all were as set, and within normal parameters. Co-pilot then observed some smoke in the cabin. An immediate descent and return to departing base was executed. Inspection of the aircraft and engines has revealed an apparent failure of a booster stage blade on LH engine. Engine is being replaced and shipped to approved MRO.
ROLLS ROYCE BR700 715A130–ATA 7261 TURBINE ENGINE OIL SYSTEM–TURBINE ENGINE–FAULT MESSAGE. DR 611851387
During 'Climb' phase, 'ENG L OIL FILTER' and 'ENG L SYS FAIL' level 1 alerts illuminated. Aircraft landed safely. 'Maintenance message 793401', was observed during troubleshooting. L eng pressure filter, oil filter differential Px switch replaced. Ground run/close up done.
GENERAL ELECTRIC CF6 80E1 A4–ATA 7261 TURBINE ENGINE OIL SYSTEM–TURBINE ENGINE–Oil leak. DR 611851417
Approx. 45 mins into cruise, engine 1 oil quantity noticed at 11.0 quarts progressively decreasing to 1 quart in less than a minute. Oil temp increased to 150 degrees and pressure was low and fluctuating. Engine thrust reduced to idle until landing. Aircraft diverted to alternate. ECAM eng 1 FADEC fault triggered after landing.