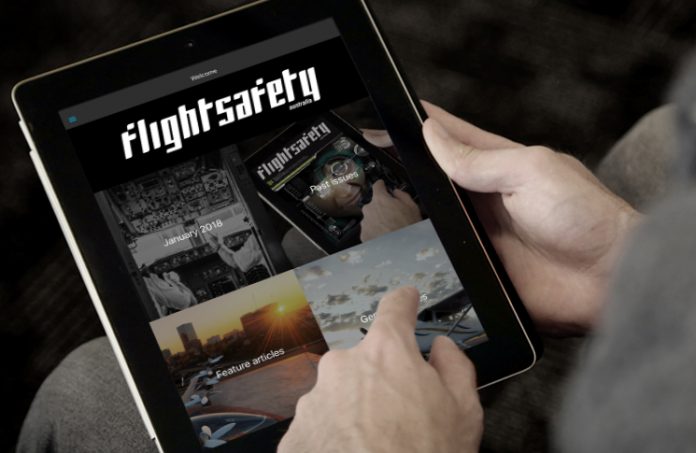 We're glad to say Flight Safety Australia's app has been fixed and now works with tablets and smartphones using Apple and Android software. Again, we apologise for the delay in this happening, even though it was due to software issues not under our control.
The new app brings together feature stories, quizzes, accident reports and close calls from the month on our news site flightsafetyaustralia.com for a one-time download and offline reading at your leisure. It offers better compatibility with new devices, smartphones and operating system updates, and you will find the stories to be more responsive and shareable. And you can download all back issues, including November–December 2017, which was unavailable for some readers because of software compatibility issues.
Reading Flight Safety Australia
 As before, there are two ways to read Flight Safety Australia:
You can download our free Flight Safety Australia magazine app on the App Store for iPads and iPhones, or on the Google Play store for Android tablets and smartphones. In it you will find videos, interactive quizzes, audio close calls, and feature stories. Android users need to remove their existing app and download the new one.
You can also stay up-to-date with all the latest aviation safety news by visiting our news site: flightsafetyaustralia.com Here you will find not only all the articles published in our monthly magazine-style app, but also daily updates on aviation safety news. Like the app, the news site is also mobile friendly, so you can catch up with the latest aviation safety news on your smartphone.
Past issues
For issues of Flight Safety Australia from 1996 until May 2014, please visit our archive. For content published since May 2014, please visit the archive on the Flight Safety Australia news site.
Have you had a close call?
Have you been involved in an incident or accident that you would like to tell us about? It can't be the subject of a current official investigation, but if we publish your story, you will receive $500.
Articles should be between 450 and 1400 words. Submit your close call by emailing fsa@casa.gov.au. Please make sure all attachments are less than 10 Mb in size.