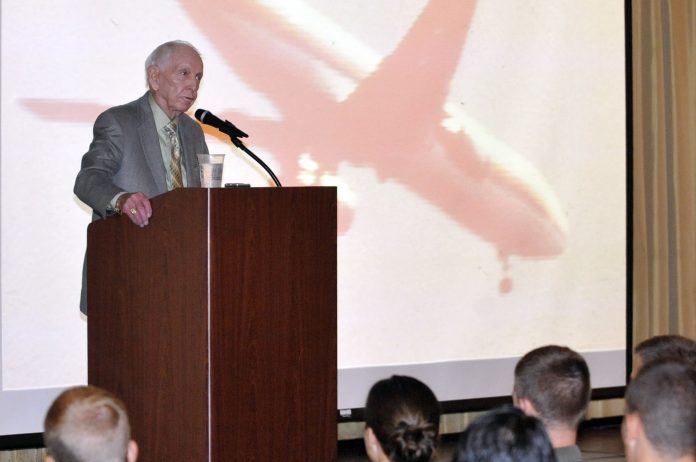 Alfred C. Haynes, 31/8/1931–25/8/2019
Al Haynes, the pilot-in-command of the crew of four who landed a DC-10 at Sioux City Airport after its hydraulic flight controls failed, has died, aged 87.
The crash of United Airlines flight 232 in July 1989 killed 112 people but 184 survived a landing that the US National Transportation Safety Board concluded was impossible, after numerous crews crashed while trying to replicate the landing in a simulator. Its 1990 report said, 'The Safety Board concludes that the damaged DC-10 airplane, although flyable, could not have been successfully landed on a runway with the loss of all hydraulic flight controls.'
The many media obituaries of Haynes have invariably lauded him as a hero, but he eschewed this description. 'There is no hero, just a group of four people who did their job in an unusual circumstance,' he said in a media conference that took place so soon after the crash he still bore cuts on his face from the impact.
'We were too busy to be scared,' Haynes told Seattle Times aviation reporter Dominic Gates. 'You must maintain your composure in the airplane or you will die. You learn that from your first day flying.'
Haynes returned to flying the year after the crash but retired at the compulsory age of 60. In later life he travelled extensively, making nearly 2000 public speeches about the crash and the importance of the training, preparation, leadership and crew resource management that had allowed people to survive. In retirement he continued his other vocation as an announcer and umpire for the Little League children's baseball organisation. A widower since 1999, he also endured the death of a son in a motorcycle crash, and later his daughter became sick and required expensive bone-marrow treatment. Survivors of flight 232 and other well-wishers found the money promptly.
His most appropriate eulogy is to be found buried in the pages of the NTSB's official report into flight 232. 'Under the circumstances the UAL flight crew performance was highly commendable and greatly exceeded reasonable expectations.'
Flight Safety Australia: back in print
Flight Safety Australia is available now by subscription from the CASA Online Store for $39.95 for four issues a year, delivered to your door in Australia.
Subscribe now to receive the Summer issue as your first.
Subscribe at shop.casa.gov.au