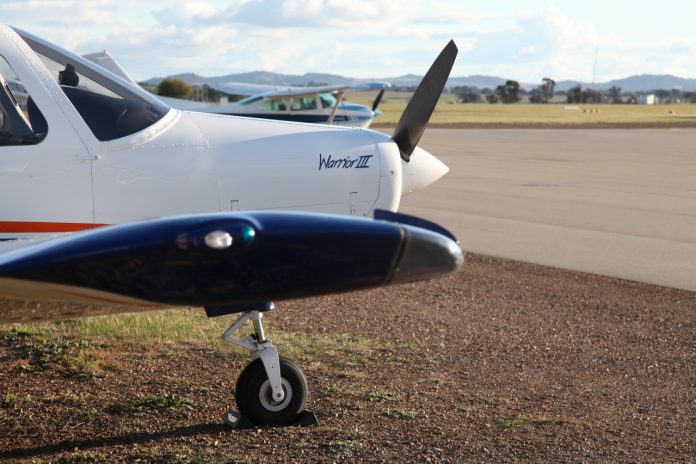 By Warren Scanlon
This pilot had to make quick decisions after the airspeed indicator failed
Shortly after obtaining my private pilots' licence, I hired a Warrior from a flying school at Moorabbin and had a holiday with my wife and daughter, flying to Sydney and Newcastle to visit family.
The total flying time was about 15 hours, which the manager of the school was pleased with, but explained the Warrior was wanted for training and suggested I use a Cessna 172 for future travel. So I did a conversion—one hour dual followed by a one-hour solo—then took my wife on a short trip to Phillip Island. Having logged about 10 hours on type, my wife and I flew in the Cessna to Corowa and were met by my brother-in-law who lived at Chiltern.
He requested a ride to have a look at his house so we took off and had an hour's pleasant flight, then returned to Corowa, parked the aircraft and drove to Chiltern to meet his wife, who was pregnant. We stayed the night and next day my brother-in-law and his wife requested a flight before we departed back to Melbourne.
At the airport, I did all the checks and made sure my two passengers were sitting securely in the aircraft, all set for take-off. Okay, full throttle and head down the concrete runway, speed gradually building up, just about ready for rotation and lift off. A quick glance at the ASI—nothing! The ASI was not registering any reading! What to do? Should I abort? Not much room, so no—continue with the take-off and hope the blockage in the pitot tube will rectify itself.
We flew back to Chiltern and looked down on their farmhouse and then it was decision time—still no ASI reading and I was low hours on type. I was responsible for the safety of my passengers and there were no facilities at Corowa if I made a mess of the landing—and one of my passengers was seven months pregnant. No, better to divert to Albury.
'Albury. This is Cessna Alpha Bravo Charlie*. Do you read?'
'Alpha Bravo Charlie, this is Albury. We read you loud and clear.'
'Albury, I have a problem with the ASI, no speed indication. Do you have ambulance and fire cart facilities on the airfield?'
'Yes. We have facilities, leave it to me. What is your ETA?'
'Thirty minutes'
'Alpha Bravo Charlie, how many POB?'
'Albury, three POB'
'Roger, call on entering circuit area'
'Alpha Bravo Charlie'
I informed the couple of my problem and advised them I intended to divert to Albury where I confirmed they had emergency staff in case of any mishaps with my landing. My passengers, far from being concerned, just thought this was an extra bit of excitement.
Having arrived over the top at 1500 feet, I was amazed to see many emergency vehicles—fire trucks, ambulances and TV vans—and a huge crowd of people, perhaps 300 all wanting to see me crash!
Okay, we are on finals and have done all the prelanding checks. A quick look at the ASI—still nothing. Just concentrate on flying, make sure you don't stall, just keep up a bit of speed, try not to think of all the people watching. Instinctively I keep looking at the ASI—still nothing and rounding out coming up. Crosswind from the right, make a correction, stick back, not too much, you don't want to balloon up … just keep the nose on the horizon, flying straight and level … hold it there, don't get impatient, it will land itself.
Finally, we are over the threshold and I close the throttle and let the speed bleed off and finally we are safe on the ground. What a relief!
'Alpha Bravo Charlie taxiing to parking area'
'Alpha Bravo Charlie. Well done. Taxi to parking area and report to air traffic control'
We slowly taxi pass the crowd, which was now dispersing, no doubt disappointed at witnessing a normal landing. As we got out of the aircraft, one irate member of the crowd yelled out, 'What a waste of taxpayers' money, it probably cost us $30,000.'
I ignored the remarks and introduced myself to the airport manager and an amiable policeman who coordinated the emergency services. I also took a phone call from a jovial boffin from Regional Air Safety. 'Nothing on the clock old boy!'
'No sir.'
'Well done. I don't mind these incidents that have a happy ending, best of luck.'
Meanwhile a mechanic took the trouble to find the problem. Yes, it was a wasps' nest in the pitot tube. He gave me a bill for his trouble: about $4000—country lads' humour. When I got back to Melbourne, I sent him a cheque to buy some beer.
On reflection, the incident caused many emergency personnel to act. The senior policeman said two of his cars nearly collided in their haste to get to the airport, but conceded it was good practice. I suppose the hospital would have been notified and preparation made for burns victims. Fortunately, nothing drastic occurred.
When I arrived back at Melbourne, the manager of the flying school was noncommittal. Asked why he didn't supply pitot head covers, he said, 'People keep losing them and it's too much trouble replacing them all the time.'
My mind went back to the irate bystander who reckoned I should pay for all the expense of the emergency exercise—perhaps send the bill to the school manager and he might may be more inclined to provide pitot-head covers in future because, sometimes, things go wrong.
* Aircraft callsign changed