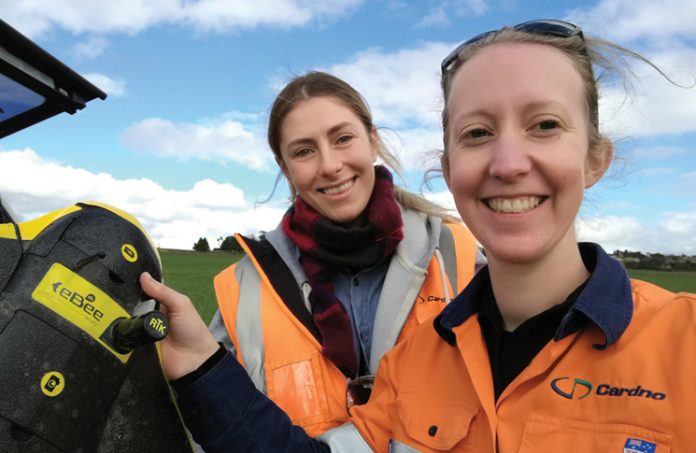 Amy Steiger isn't your typical drone operator.
By Dragica Barac
She says she fell into the role through a career development scholarship and good timing.
Working for Cardno—a global infrastructure, environmental and social development consultancy—Amy holds a CASA remote pilot licence (RePL) and flies various drones for mapping, surveying and aerial photography applications under the Cardno remote operator's certificate.
As one of nine company pilots in Australia, she is also experienced in flight planning, risk analysis, reading aviation maps and charts and has more than 100 hours of flying time.
'Five years ago, the surveyors I work with had just bought a fixed-wing eBee [professional mapping drone],' she says. 'While my background is more in geography and geographical information systems [GIS], I was fortunate enough to get some extra funding from Cardno towards professional development training.
'I thought it would be an interesting idea to spend that money on RPAS [remotely piloted aircraft system] training and I went out and got my RePL. I started out flying the eBee but now I fly a DJI Matrice or Inspire—they're my tools of choice and I have the most experience with them.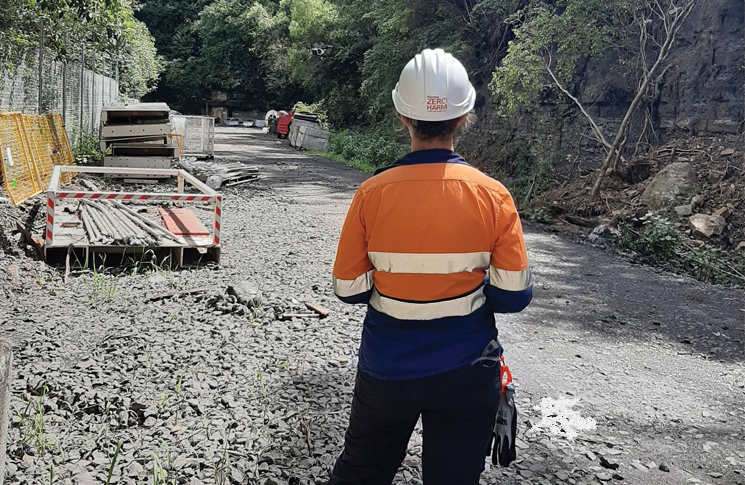 'I also own a DJI Mavic but don't get to take it out much because I have a two-and-a-half-year-old that keeps me pretty busy, although I think she'd probably love it!'
With a strong technical background in spatial data management as well as image and spatial analysis, mobile and web GIS, Amy's core skills compliment her RePL experience.
We can do it with the drone in less time and we get the data and results back to them straight away
On a typical workday, she will head out with geotechnical engineers, surveyors or environmental scientists conducting site assessments, mapping tasks or building and utility inspections, with a thermal camera attached to the drone.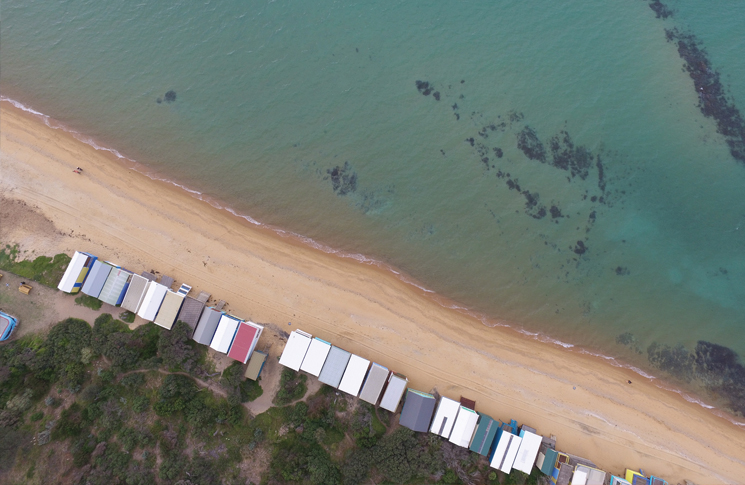 'The beauty of using drones in my line of work is that it cuts down the time onsite,' she says. 'We completed a project for the Department of Environment, Land, Water and Planning in Victoria, surveying 15 beaches in Port Phillip Bay and by using a drone we knocked the job over in under two weeks. Surveyors on the ground would take months to do that, whereas we can do it with the drone in less time and we get the data and results back to them straight away.'
Amy admits she finds it exciting to push the boundaries as far as she can with drones and trying to find new applications to use them.
'A couple of years ago I presented sessions with the NSW Department of Primary Industries who do a Spring vine workshop, like a roadshow in wine growing regions—which was great because I also like wine,' she says.
'I showed the growers that drones are more accessible than ever and if they equip them with multi-spectral sensors, they can actually manage their land and crops better with them.'
The best advice Amy can share with other operators is the importance of always flying your drone within visual line of sight.
'I'm based in Wollongong and once we had a job near the Sea Cliff Bridge, flying alongside the isolated coastal cliff, which meant we were looking down while trying to identify any geotechnical hazards,' she adds.
'It's a well-known bridge and a pretty popular area. I glanced at my controller for a second and when I looked up, there were two DJI Inspires in the sky and one was not mine, so yes, always keep an eye on your drone.'